Do you have students who need financial help to stay in your school? Let us help!
Thanks to our amazing donors, AAA has FTC scholarship funding available for eligible students for the 2020-21 school year. No waiting list here!
AAA scholarships are funded from the first day the student attended your school (not the date awarded like some other SFOs).
Let your families know that they should apply now at www.AAAScholarships.org!
The current application submission deadline is 1/15/2021 (subject to change).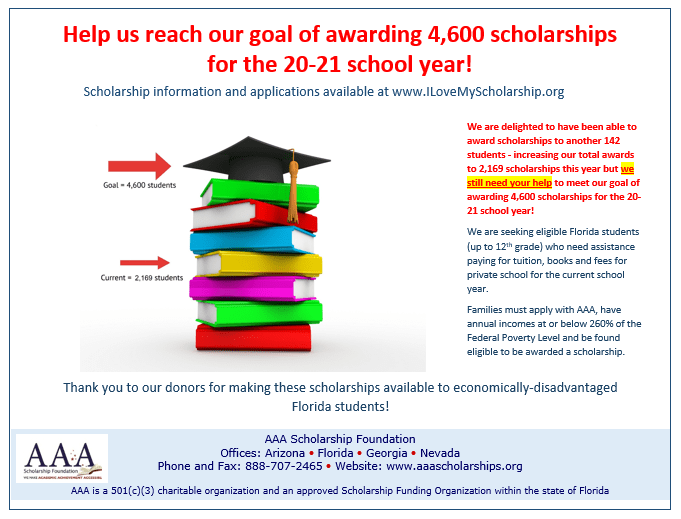 AAA's Board Expands Its Charitable Mission
AAA's Board of Directors has approved an expansion of our charitable mission/exempt purpose from the sole focus of low-income and disabled students to also include a broad promotion of the advancement of education for all families.
This expansion will allow AAA to fund scholarships for renewing FTC students regardless of income and to administer other innovative education options that may be created in the future. We are excited about the new opportunities that this expansion may bring!
Donor Thank You Cards and Letters
Thank you to all of the schools and families that are sending-in donor thank you cards, letters and drawings! We loved them all – but especially the student drawings! 
These simple expressions of gratitude help our donors connect with those students and schools they are supporting and make sure that they continue to donate!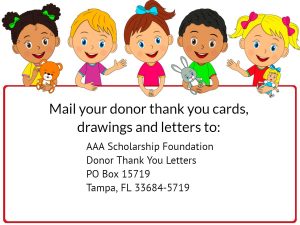 Upcoming FTC payment dates:
2/12 – AAA Verification Report Sent
2/18 – Verification Report Deadline
2/23 – AAA Checks Mailed
Make-up payment for Gardiner students who missed our first run: 
12/08 – Verification Report Sent
12/14 – Verification Report Deadline
12/16 – ACH Payments Processed
12/18 – ACH Payments Funded